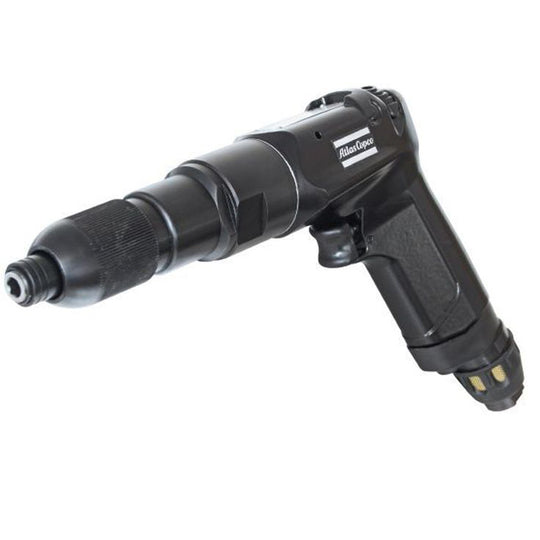 Atlas Copco PRO Tools
Atlas Copco's PRO tools are a line of premium high-performing tools that offer high efficiency hours after hours while providing maximum ease-of-use. Each Atlas Copco PRO tool is designed for enhanced performance and comfortable usage. Below you can find why these tools are industry-best and how they can help you to maximise productivity and operator comfort. To purchase our Atlas Copco PRO tools, please click here.
Atlas Copco PRO Impact Wrenches
Impact Wrenches are Created specifically for jobs such as automotive repair, product assembly, construction, maintenance of heavy equipment and jobs requiring high torque output, these impact wrenches have the best power-to-weight ratio. Their twin-hammer mechanism makes them highly efficient while their vibration and noise reduction technology makes them easy to operate. PRO Compact XP tools are explosion-proof and meet strict European standards. They also comply with ATEX Directive I M2 II 2G IIB T4 II2D 135°. Due to their spark-reduced safety mechanism, they can safely be used for hazardous work in places such as coalmines and petrochemical plants. These impact wrenches come loaded with valuable features, including:
Twin-hammer impact for quick run down
Tough fiberglass reinforced composite housing
Three torque settings
Vital motor parts are made from steel for enhanced durability
Easy operation with one hand. Thumb reverse lever, torque settings and trigger makes it easy to handle with just one hand
Insulated ergonomic rubber grip for safety and comfort
Atlas Copco PRO Ratchet Wrenches
Atlas Copco PRO ratchet wrenches are light and reversible, have a compact design, and are built for speed and easy handling. They are designed to minimise effort from the operator. Each PRO ratchet wrench comes with a unique composite housing that provides better ergonomics, less vibrations and high power-to-weight ratio. Its variable, super-light trigger makes switching forward and backward very simple. It has a 360° adjustable air exhaust that keeps the air away from you. For the most comfortable handling, it has an insulated rubber grip. The PRO line of ratchet wrenches come with these excellent features:
High power-to-weight ratio
Strong composite housing
Insulated and comfortable rubber grip
Easy-to-use forward and reverse switch
360° adjustable air exhaust
Atlas Copco PRO Screwdrivers
Enjoy quick and smooth fastening performance with PRO screwdrivers. They offer high precision, speed and durability due to their well-balanced design. Highly useful for assembly and disassembly, these screwdrivers come with a double-hammer mechanism for a quick, accurate performance. PRO screwdrivers come in two models:
Direct-driver models - best suited for self-tapping screws and wood screws
Slip-clutch models - for soft joints, sheet metal screws, wood screws and self-tapping screws where torque level may peak briefly
These screwdrivers work silently, have a 360° adjustable air exhaust (so that you don't inhale any bad air), and super comfortable handling and operation.
Atlas Copco PRO Drills
Sturdy, high-performing and easy-to-use PRO drills can drill into the toughest of materials easily. Their silent operation, high accuracy, power and speed makes drilling noise-free and effortless. They have an air exhaust through the handle to keep you free from bad air. PRO 90° angle drills make drilling possible in highly confined and cramped spaces. Some of the top features of PRO drills are:
High spindle accuracy
Silent operation
Well-balanced and ergonomic
Oil-free
Soft-start throttle
Air exhaust through handle
Available with key or quick chuck
Atlas Copco PRO Angle Grinders
Atlas Copco PRO grinders provide you with high quality finishing. These lightweight and highly durable grinders have high power and speed for superior performance. Their built-in speed governors keeps the grinding wheel running at optimal speed. Angle grinders are the top choice for jobs such as adjustment grinding, weld preparations and light cleaning of castings. Angle grinders in the PRO range have power output of up to 1.1 hp. These grinders have high power-to-weight ratio, insulated rubber grip for maximum comfort, safety start lever and adjustable wheel guard.
Atlas Copco PRO Die Grinders
For high quality finishing and surface preparation, nothing can be better than PRO die grinders. They are lightweight, compact yet very powerful. The G2414/G2422-series have built-in speed governors, which run the wheel at optimal speed for enhanced performance. These grinders have a unique suspension system that prevents noise and reduces vibrations, and have a strong aluminium housing. The PRO low speed grinders have gear reduction system, and speed governor to control power and speed. These grinders are perfect for polishing, grinding and paint removal. They can be used with brushes, flap wheels, non-woven cloth and buffs. All die grinders come with a safety start lever.
Atlas Copco PRO Sanders
Used for dry sanding and surface preparation, PRO sanders have high power-to-weight ratio, and a powerful and robust design. These are four types of PRO sanders, namely:
Angle sanders – high-power output for rough surface sanding
Belt sanders – precise and efficient sanding of confined areas. Ideal for de-burring
Polishing sanders – low-height allowing access to confined spaces
Orbital sanders – precise and powerful sanding of rough and fine surfaces
PRO sanders have speed governors for maintaining optimal sanding speed, safety start lever, and insulated rubber grip for better protection and comfort. They can be equipped with spot suction kits to further reduce health risk to the operator.
Atlas Copco PRO Percussive Tools
Low vibration needle and chisel scalers with very low vibration levels, these tools can run for hours and hours without impacting performance. Low vibration enables operators to run a tool for long periods without causing fatigue or health issues. These tools have a modular design that allows their configuration to be changed when needed. An inline tool can easily be converted into pistol grip, and a needle scaler to a chisel output. Also, chisel scalers can be fitted with vacuum shrouded front tubes. PRO low vibration scalers are perfect for removing coatings, corrosion and weld slag. Some of the most loved features of PRO percussive tools are:
Ergonomically designed
No tools required to change needles
Low maintenance
Low vibration, heavy duty design
Easily convertible
One-handed operation, lightweight and easy to operate
Accessories
Atlas Copco PRO accessories offers you a wide variety of accessories for your PRO tools. You may choose from these:
Chisel blank
Flat chisel
Wide flat chisel
Sharp chisel
Spot weld chisel
Angle scraper chisel
Moil point chisel
Pipe cutting chisel
Plate cutting chisel
Weld flux chisel
Flux chisel
Double edge plate cutting chisel
Point chisel
Rivet cutter
Rivet snap
Benefits of PRO Tools
Atlas Copco PRO tools spell quality, performance and comfort. Some of their top benefits include: - Design that makes handling and movement comfortable, matched with an attractive look - Strength in the material from which the tools are made is coupled with a solid design to enhance performance and durability - High quality makes every PRO a pleasure to use. It comes with advanced features that make work easy - Speed and power helps to get the job done faster than ever before. No matter how tough a task, PRO makes it simple - Large warranty is a mark of the company's belief in the performance and durability of a product. PRO comes with a liberal warranty.
Safety Tips
Though Atlas Copco tools have safeguard features that protect you from accidents and injuries, by quickly reading through these safety tools, you can keep yourself and others safe while at work.
Check the tool before using it – Check the fitting, hoses and buttons of the tool before switching it on for use. Look for any cracks in the tool, socket, etc. If you see a problem, get the tool fixed before using it.
Check its speed – The measured speed of the tool (90 psi) should not exceed its rated speed. Before checking your tool's measured speed, take care to remove sockets, wheels, etc.
Use safety gear – If the tool requires, wear appropriate safety gear. You may use a helmet, protective goggles, earplugs, gloves, etc. to keep yourself safe.
Keep a safe area for work – Restrict the entry of other people, especially children to your work area. Keep your workplace well-ventilated. Keep away from electric wiring because an air tool is not insulated and should not come in contact with an electrical power source.
Conduct test run – Before using a grinder, test run it in a protected area where there are no people. Also test run it after you've changed the wheel.
Buy appropriate accessories – Only use accessories that are recommended in the safety manual. Do not use hand sockets with impact or ratchet wrenches. Also, do not use a grinding wheel, cone wheel, etc. that has a speed lower than the speed of the grinder. Before changing accessories for an air tool, always remember to disconnect it.
Disconnect after use – After you have finished your work or are taking a break, disconnect the air tool before disengaging yourself from it.
Each PRO tool comes with a safety and instruction manual that provides you with comprehensive information regarding how to use it safely.
If you want to purchase Atlas Copco Pro Tools or send us a query, please email us at info@totalairsupplies.com. Our friendly staff will assist you to meet your exact needs. To view our Atlas Copco PRO Range, please click here.
---