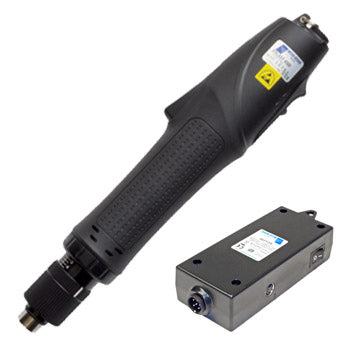 Delta Regis Electric Tools
Delta Regis is the provider of production assembly facilities, including electric tools for over fifteen years. Their high performing, precision electric screwdrivers with torque shut-off clutch technology are industry-best in performance, durability and comfort. After the success of their Delta Regis electric tools, they have expanded their product line to include brushless electric motors with mechanical clutch technology. Click here to view our Delta Regis Electric Tools for sale.
Why Choose Delta Regis Screwdrivers?
Delta Regis is an industry leader that promises performance, longevity and ease-of-use. Their screwdrivers are designed for comfort so that long hours of work can be done without fatigue or injuries. Being ergonomic, most screwdriver models have a cushioned grip for greater comfort. Their 12V, 32V and 40DC screwdrivers come with ESD-Safe housings for assembling sensitive components.
Top Features
Delta Regis electric screwdrivers are available in a wide range, allowing customers to choose the specific tool that matches their needs. Each series of electric screwdrivers come with a variety of screwdrivers with varying features specific to meet the varying needs of customers. Some of the top features that you will find in most Delta Regis electric screwdrivers include:
Precision shut-off clutch technology
Convenient single thumb operation with forward/reverse switch
Stepless external torque adjustment includes scale from 0 to 8 (for reference)
Easy installation of a torque lock sleeve
Quick change bit holder that accepts industrial screwdriver bits
Improved ergonomics - suspension bail for hanging the tool safely
Highly adjustable torque setting
Electric Screwdrivers
The wide variety of high-performing electric screwdrivers from Delta Regis makes it convenient for customers to quickly pick the right tool that matches their needs. Their 32V DC Shut-Off Clutch Electric Screwdrivers are solid in construction and innovative in design. They have accurate torque control and extremely sophisticated ergonomics that help operators do their work quickly, precisely and effortlessly. All models have ESD safe housings and brushes that can be replaced externally. Their fan equipped motors and flow through ventilation prevents the tools from becoming hot even after hours of continuous use. This feature also increases tool life. Delta Regis' low torque models are lightweight and small, which makes them perfect for precision assembly operations.
32V DC Brush Motor Electric Screwdrivers
These are standard duty 32V DC shut-off clutch electric screwdrivers. These light yet highly accurate screwdrivers have lockable torque adjustment that makes them easy to set up and secure. They have low torque reaction and wide torque range. Their rare earth magnet motor provides high torque output. Soft cushioning in the grip makes them very comfortable to use so that the operator does not feel fatigue even after long use. Each of these screwdrivers have ESD safe housings, and are CE/RoHS compliant. Depending upon the model you choose, the start type of these screwdrivers can be either start lever or push-to-start button. The speed can vary from 430RPM (Hi) to 1000RPM (Hi) and from 315RPM (Lo) to 700RPM (Lo). Accessories – Delta Regis offers the following accessories to their 32V DC brush motor screwdriver series:
ECT326 Power Supply/Controller – It acts as AC to DC converter and torque controller. According to the clutch signal from the screwdriver, the electronic control circuit adjusts the power supply to the motor. It has Hi/Lo or Variable speed selection, and is CE/RoHS/ETL approved.
Torque Lock Sleeve – It covers the torque adjusting nut to prevent tampering.
Tool Holster – You can fasten it to the edge of your workbench and put the screwdriver in it when not in use.
Angle Head Attachment – 90 degree angle attachment (the lever starts tools only).
Cable assemblies – Cables that can be used with all 32VDC brush electric screwdrivers.
Screwdriver Parts
Though your screwdriver is made from a number of parts, there are seven main parts that an operator uses in a day's work. These are:
Torque Adjusting Nut – You can turn CW to increase torque setting and CCW to decrease it. Higher the scale, higher the torque.
Start Lever/Button – Press to start the screwdriver. Keep holding it to keep the screwdriver running.
Bit Holder – Retract sleeve to insert or remove bits. Release sleeve once inserted. Pull it back and forth to ensure it has been inserted properly.
Housing Nut – Remove the housing nut to install a torque locking sleeve. The torque lock sleeve restricts unintentional adjustments to the torque adjusting nut.
Suspension Bail – Use it to hang the tool from a tool balancer.
FWD/REV Switch – From here, you can select the direction of rotation of the screwdriver - Forward (CW) and Reverse (CCW). Some models may also have an Off position.
Tool Cable Connection – Fit the cable into the socket firmly and tighten the securing ring. Avoid overtightening.
Safety Guidelines
To use the screwdriver safely at all times, please read and follow these instructions whenever using an electric screwdriver.
Avoid stressing the cable when using the screwdriver. Allow the cable to bend naturally. If required, purchasing a long cable is preferable.
Push the cable connector firmly into the receptacle and secure it tightly with the retaining nut. Avoid overtightening.
Always turn the power supply off whenever connecting or disconnecting the screwdriver cable.
Before turning on the screwdriver, grip it firmly.
Free run the tool at higher torque values to get acquainted with it before using it for work.
Remember to switch off power supply when not using the tool.
Delga Regis is a trusted name in the industry, well-known for their high quality electric tools. Their brushless screwdrivers have improved features for better performance, higher precision and greater operator comfort. Designed for longevity and performance, these tools serve you for years and years, increasing your work efficiency.
If you want to purchase Delta Regis Electric Tools, or send us a query, please email us at info@totalairsupplies.com. Our friendly staff will assist you to meet your exact needs. To view our Delta Regis Electric Tools, please click here.
---